Maestro –
Impro Comedy show
The fun, the drama, the excitement – Maestro Impro™, the most famous competition-style improv-format across the world. Participants from all over Vienna's improv scene play with each other in scenes and challenges. The audience decides who stays in the show and who has to leave the stage. Until only one improvisor remains – The Maestro.
THE SHOW
The show will take place on October 13th, 2023, 8 PM at the Spektakel. The directors will be Shawn Fisher and Valerian Stöger. The contestants will consist of players from all over Vienna's impro scene and international guests. Reserve your tickets now. 
PARTICIPATE
But wait, there's more! You can also be part of the show! There will be a free warm-up workshop for all participants  and we will randomly pick a few participants to go on stage with the already set cast. This offer is open for all levels of impro, even beginners. Register for the warm-up workshop!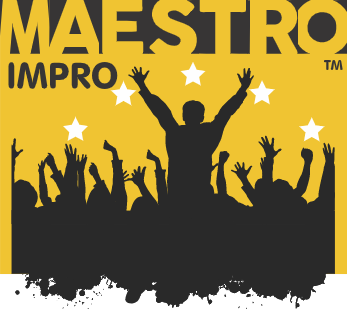 This mixed ensemble format features a large cast and directors. The show has an elimination structure, where randomly chosen improvisors play scenes with each other. The directors set up the scenes and direct the players when needed. Scenes are scored by the audience, with points awarded to all players in that scene. The players given the highest scores continue while those with lower scores leave the show. This goes on for several rounds until only one improvisor remains – the Maestro. (From Maestro Impro Guide)
 The mission of the International Theatresports Institute (iTi) is to make sure the rules of the format are interpreted the "Keith Johnstone" way and to preserve a common structure of the shows. We also believe these rules enable an approachable, enjoyable, and varied way of doing theatresports.
Maestro Impro(TM) is created (c) by Keith Johnstone (Keith Johnstone Workshops) registered in the USA, Canada and other countries. All Rights Reserved. Production rights are exclusively managed by International Theatresports Insititute. http://impro.global
We use the generic term "Maestro" for all genders by default, but we will ask the performers before the show whether they prefer a different form.
More Info
The ITI has published a handy guide. To purchase,

here. Or send us an email

 and we'll send you a free digital copy.

Podcast episode "Maestro" by Talking Heads (in German)

here.

Videos about the Maestro on vimeo – you need to create a free account to view them:

All About Maestro Impro

here.

Rebecca Northan, Steve Jarand, and Shawn Kinley talk Maestro Impro

here.