Inbal Lori
Inbal Lori is back in Vienna on the 18th and 18th of december 2022 – with two new Workshops: "The status Kingdom" and "Extreme Characters"!!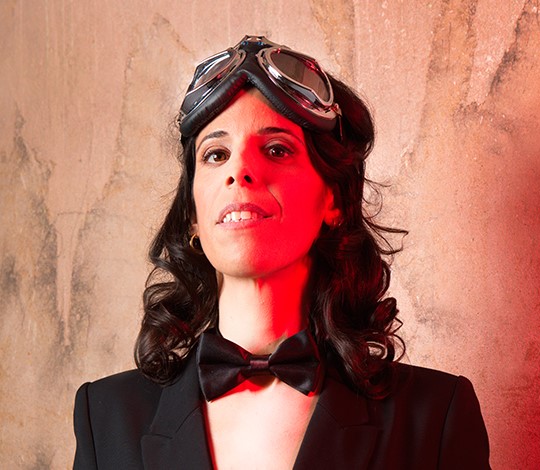 Inbal Lori has been writing and acting for television and theater since 2000 and has won prizes and scholarships. She started improvising in Tel Aviv with 3FALLING and ran an improvisation school. In 2015, she moved to Berlin and has since taught and performed all over the world. Her performances include her solo show "Fragments of Life", which she performed in Vienna last year and several duo shows like CLICK with Tim Orr.
All workshops are taught in english. Please register by entering your information to reserve your spot. We will send you the details – your place is fixed once we've received your payment. All experience levels are very subjective and just a guideline – please ask us if you have doubts. Since there will be no long lunch break, we will start each Workshop-Day with a breakfast 🙂 starting at 9.00!
If you can't afford the workshops but really want to join – please contact us via email to info@viennaimprov.org and we will see what we can do!
"The status kingdom"
Date: Sunday, December 18, 2022, 10-15h 
Location: Cache-Cache, 1060 Vienna
Cost: 130 EUR (Early Bird till 6.12. – 100 EUR)
Language: English
Level: All levels – max 12 people
Everything you need to know about status, everything you can do on stage with status, every status you can imagine playing. We will also explore the gap between a personal and a professional status and learn to create complex characters with different statuses in different situations in life. join the status kingdom party!!
"Extreme Characters"
Date: Monday, December 19, 2022, 10:00-15:00h
Location: Cache-Cache, 1060 Vienna
Cost: 130 EUR (Early Bird till 6.12. – 100 EUR)
Language: English
Level: Intermediate and advanced players – max 12 people
Have you ever wondered why most of us play "normal" or "neutral" characters most of the time? Do you have the urge to play characters which are bigger than life and /or are very different from you? Are you struggling with playing this kind of character in a believable way? When improvisers make the choice of playing an extreme character on stage, often two main things happen:
1. They struggle between playing that character consistently and believably while keeping the scene going.
2. The scene will usually evolve around them and how "extreme" they are. This is why this Workshop is about developing the ability to play those characters in a believable and focused way AND use these characters to tell beautiful stories in various contexts and situations.
To register for the workshops, please fill out this form!
If you book more than one workshop, we will give you a 5 EUR discount.